Instructors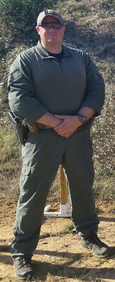 ​James Preston is the owner and director of training for Preston Tactical. He is a Texas Peace Officer who holds a Master Peace Officer certification and a Bachelor's Degree in Criminal Justice. James graduated first in his class at the police academy. He is a TCOLE-certified instructor, firearms instructor, field training officer. He was cross trained as an Emergency Medical Technician (EMT) and he is a Concealed Handgun License instructor. James has held assignments in uniform patrol, special operations/tactical division, and the training division.

James has logged thousands of hours training with various law enforcement agencies, and private instructors. He combines his real life experience with training to provide his students with concepts and tactics that work in the real world. He is known for his ability to motivate students with his dynamic style of instruction and positive mindset. His professional demeanor and challenging standards leave you with a hard earned sense of accomplishment.

James instructs law enforcement courses ranging from basic to advanced firearms, live fire CQB, less lethal munitions / impact weapons, high risk vehicle stops, vehicle assaults/rescues, patrol tactics, emergency vehicle operations, low light tactics, breaching, and active shooter response.
---
---